Product
– by Gabor on February 2, 2023
Smarter, faster, better: introducing interactive exploration & other power-ups to Deepnote charts
Data visualization is about so much more than painting static pictures. See how Deepnote's no-code charting experience brings you closer to your data.
Fun fact: More than half of your cerebral cortex is dedicated to processing visual information. Our brains are hardwired to think visually, whether we're spotting trends in a line graph or uncovering correlations in a scatterplot.
That's why data visualization is so important to exploratory analysis.
Last year, we announced a major upgrade to our data visualization interface. We took our no-code chart builder and made it easier than ever to create a wide range of elegant, impactful charts.
And then we took a break. Just kidding! We continued adding new features, customization options, and quality-of-life improvements.
But creating a chart is rarely the end of the journey — it's more often the start of an iterative cycle. Our latest updates are designed to help you stay in the analytical flow (and make it easier to share your results with others).
Here are all the new ways our chart blocks can help you uncover the insights that matter, faster.
See Deepnote's chart blocks in action in the video below:
Close the analytical loop
Stop me if you've heard this one before: You write some code, create a chart, spot an insight you want to investigate, write some filtering code, create a new chart, spot another insight, and repeat, ad nauseum.
We feel your pain. You shouldn't have to interrupt your workflow just to create a simple chart filter. And now you don't have to. Our new interactive filtering option makes it easy to zoom in on areas of interest without having to write a single line of code.
Just choose individual items in your legend or a range of data with your mouse and click the Filter button to include or exclude the selected series or data points. Want to combine multiple filters to drill down further? You can do that, too! More iterative analysis, less unproductive back-and-forth.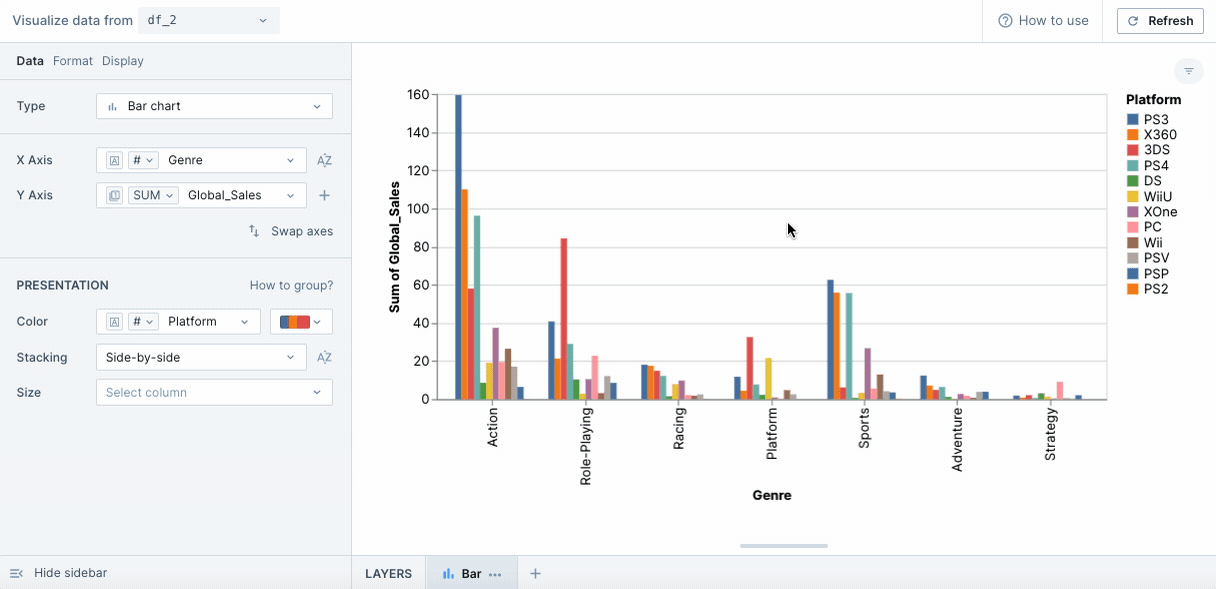 We've also included smart "escape hatches" to make sure you're never far from your code.
Every time you apply a filter on a chart block, you'll have the option to export the chart as a DataFrame. This will add a new code block containing the filtered data under your chart so you can quickly dig deeper into whatever grabs your attention.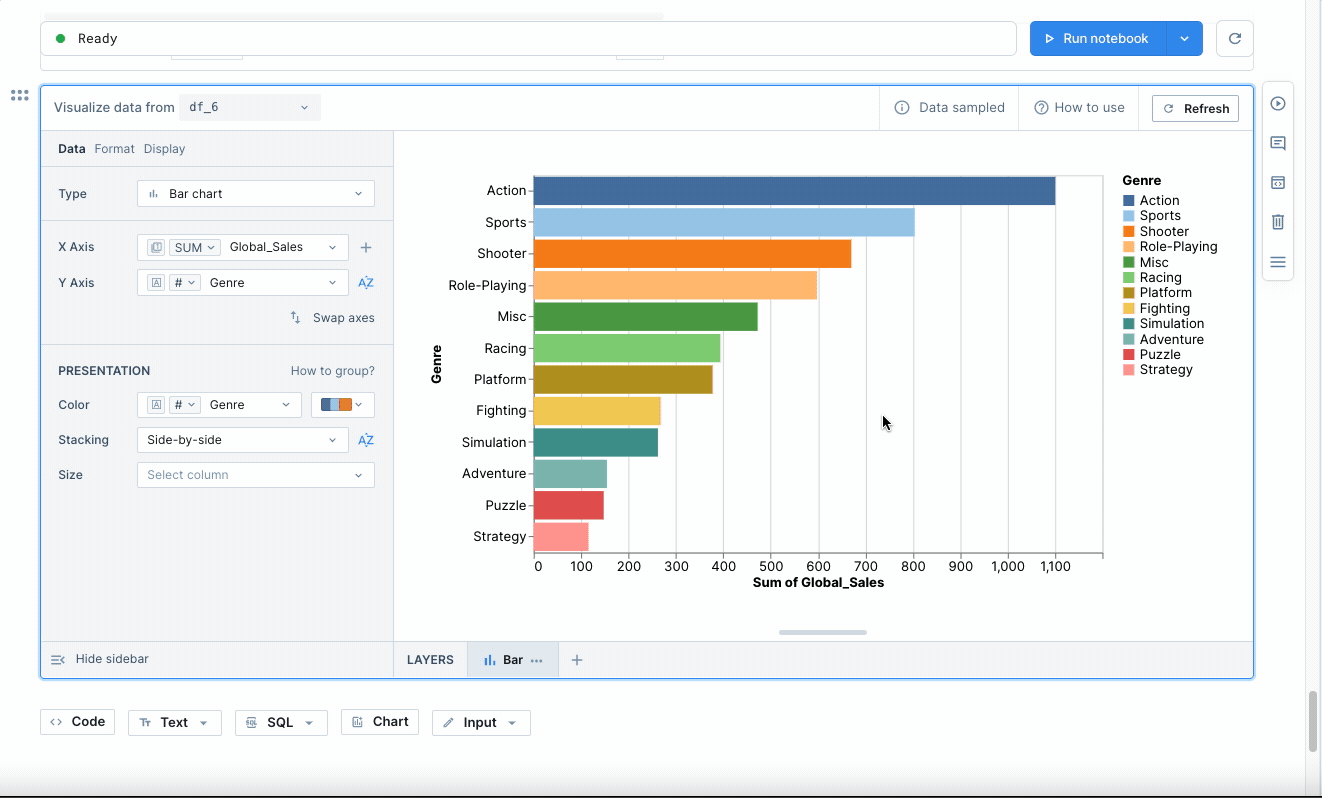 Accelerate visual analysis
Cooking from scratch? Delicious. Charting from scratch? Unappetizing.
As data practitioners, our goal is rapid analysis. But creating charts from the ground up can quickly turn into a timesuck. You end up spending more time building charts than exploring your data.
That's why we've taken the guesswork out of finding the right chart for the job. Our new chart recommendations feature provides suggestions based on your data, making it easy (and oh-so fast) to create the most common types of charts for exploratory analysis.
No more starting at square one. Simply browse through a gallery of ready-made charts and select the option that best fits your needs.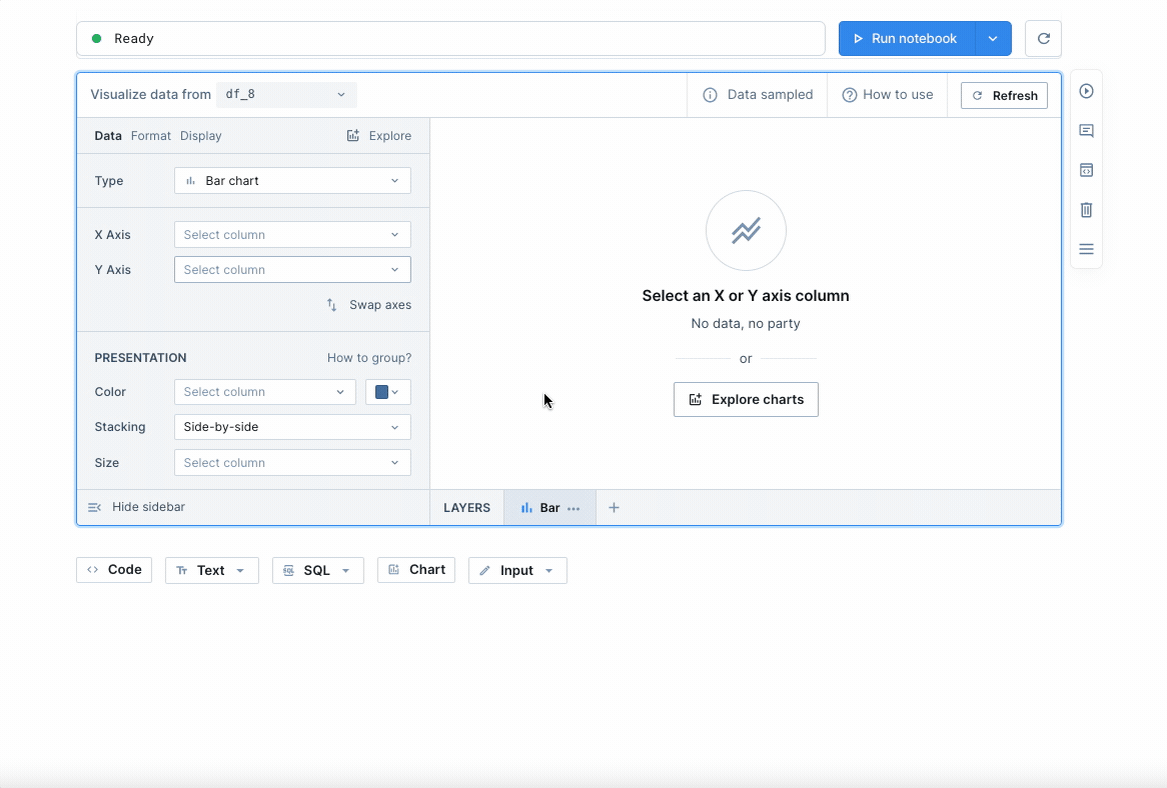 Customize to your heart's content
Our mission is to help you manage the vast majority of your data visualization needs without writing code. That said, sometimes you need to do more than point and click.
Now you can duplicate charts as code, creating a new Python code block in your notebook that contains the configuration of your chart in the Vega-Lite specification format. This gives you ultimate flexibility for creating hyper-customized charts (and a jump-start on getting there).
Want to change your bar chart into a classic heat map view? It's just a code change away. Kick things off with a prebuilt chart block and then take it home by seamlessly transitioning to code.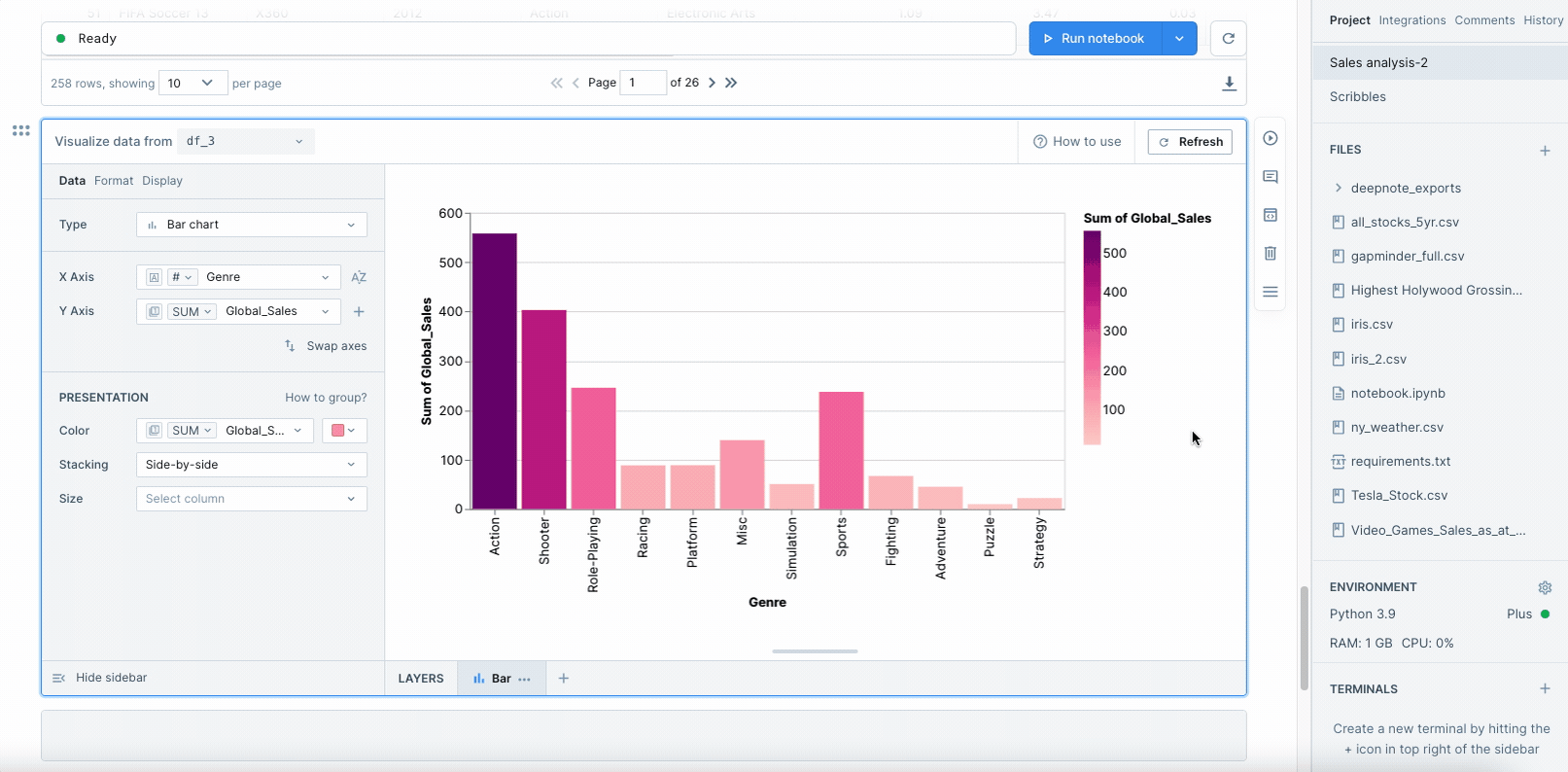 Change time in no time
Spotlighting changes over time is table stakes for data visualization. It's also a pain if you need to get more granular on the fly.
Adjusting time series analysis usually means having to reshape your dataset with code. That's why we've added time units for your charting pleasure: multiple time intervals and format options in a handy-dandy dropdown menu. Next time you add a temporal column to an axis, just choose the time unit you want to display and the axis will be grouped by your selection.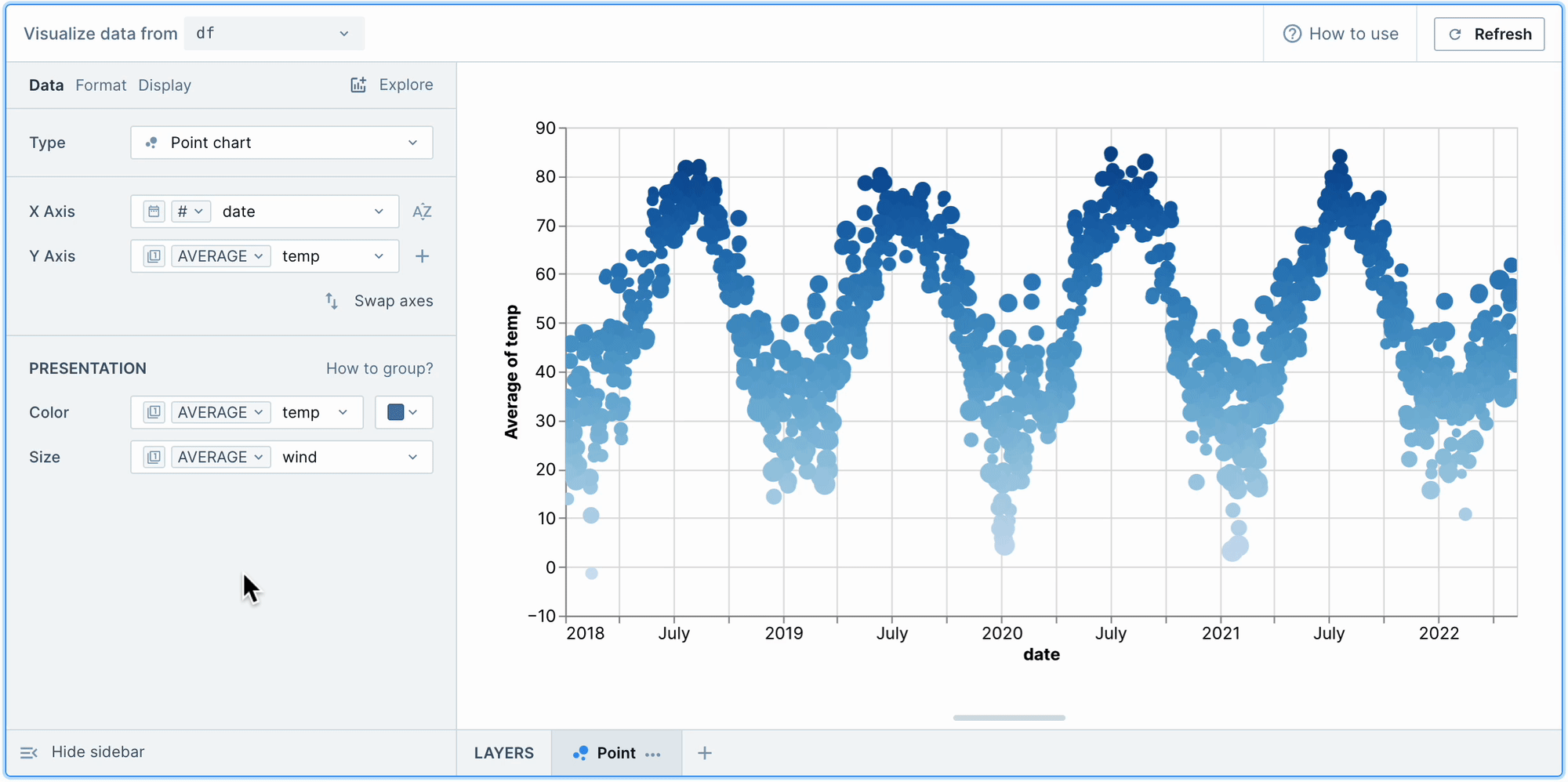 Trade bare-bones for business-friendly
We're not just creating charts for fun (okay, some of us are). We're usually answering questions and identifying issues that will impact the work of others. In other words, we need to share.
But creating charts that will wow the boardroom (and that people can easily interpret)? It's a painstaking process.
That's why we've made it simple to customize the look and feel of charts, as well as make visualizations more readable. In addition to a wide range of color palettes to choose from, you can now use custom colors in your charts.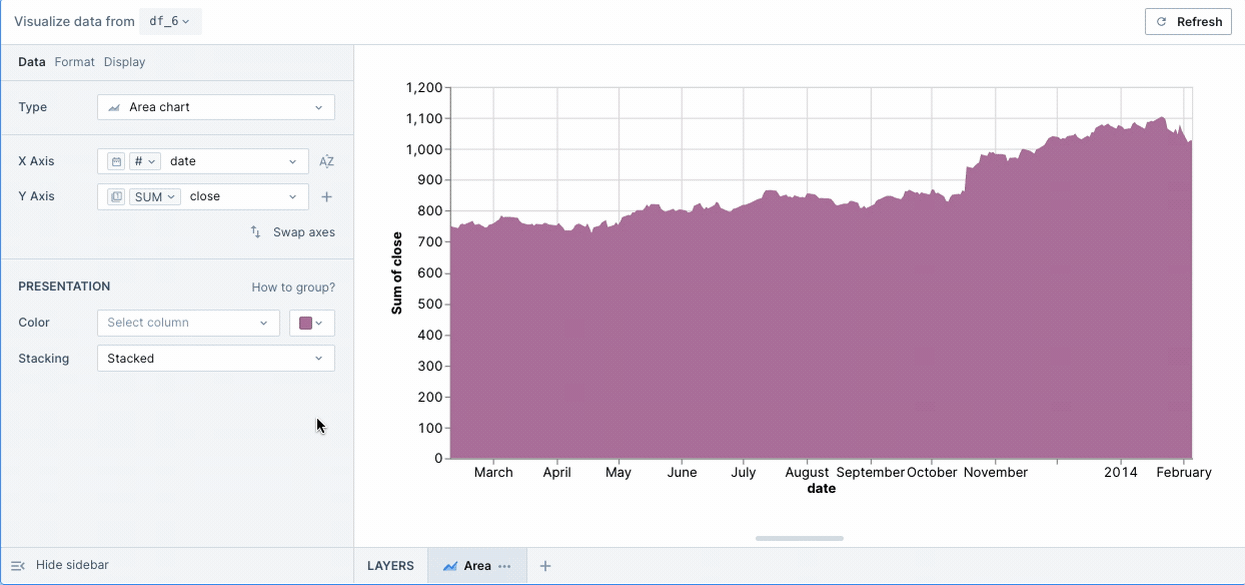 But that's not all! You can now also add value labels when you create a bar, line, or area chart. Simply hit the toggle to display the numerical values of individual data points. Ta-da! Your charts just got much more user-friendly and presentation-ready.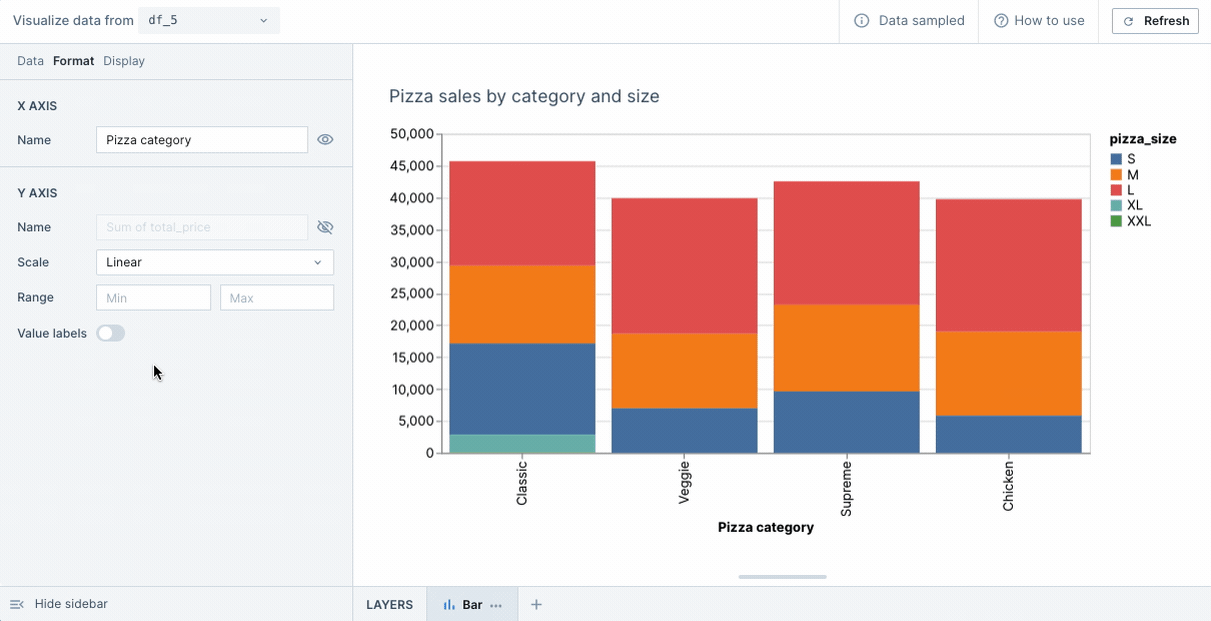 Master multiple measures
Easily adding multiple measures to a chart is standard practice in business intelligence tools. So we made it the standard in data notebooks.
To create effective comparisons, charts often need to display multiple measures side by side. Manually adding layers to achieve this is time-consuming (and not our idea of fun).
Now whenever you create a chart with dimension (categorical) and measure (quantitative) columns visualized on the X and Y axes, you can just click on the + button to select the new measure. We'll create a new chart layer preconfigured for you, including legends.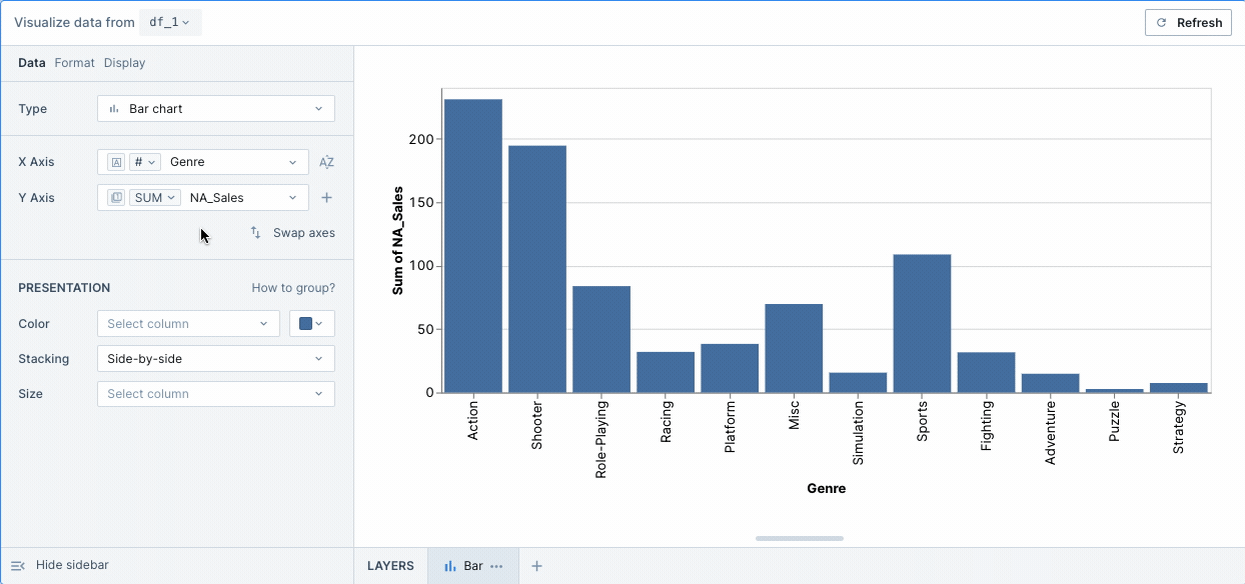 And if you create a compound chart with a secondary measure added, you have the option to enable a dual axis, allowing you to plot two measures that use different scales.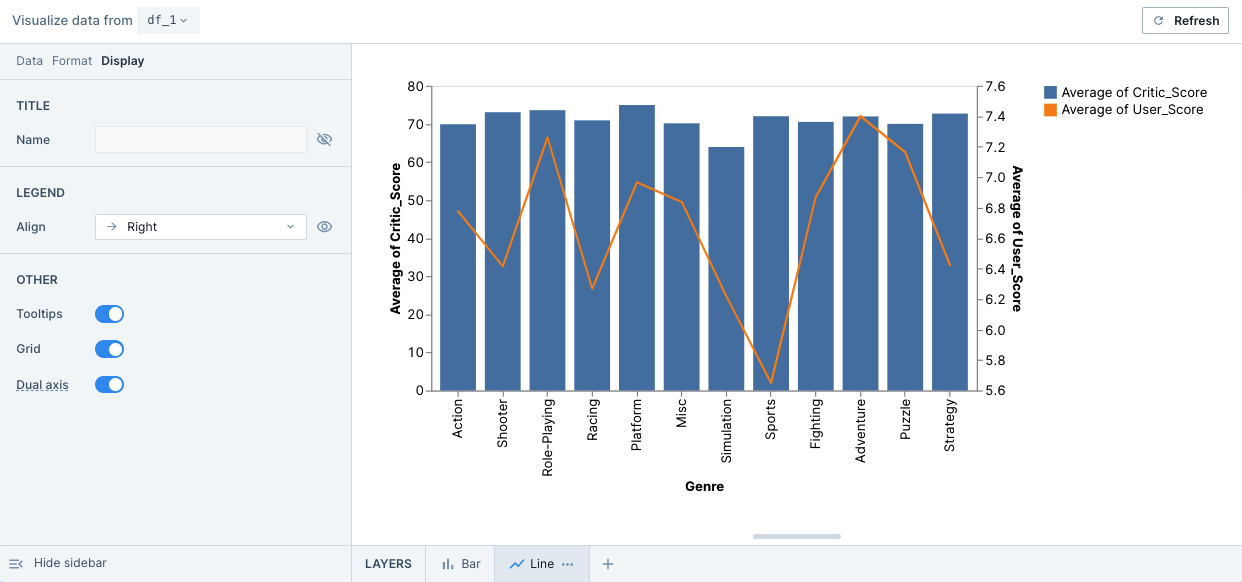 We hope our new chart block upgrades will make your data visualization journey that much more useful (and your charts that much more powerful). We'll leave it up to you to decide how complex you want to get next time you're slicing and dicing your data.
As always, there's much more to come. Stay tuned for future updates to Deepnote's chart blocks and other new releases on our changelog.
In the meantime, we'd love to hear your feedback. Please send us your suggestions for how we can continue to improve our chart creation process.
Power up your data visualization with Deepnote
Get started for free to see how Deepnote makes it easy to create, collaborate on, and share powerful data visualizations.
Try Deepnote today
Start on a Team plan trial to see what Deepnote can do. On a big team? Book a call with us!