Product
– by Robert on March 30, 2023
Unlock your SQL superpowers with Deepnote & Dremio
We're excited to announce our integration with Dremio. Learn more about what this means for your SQL analytics workflows.
Dremio is built to help organizations self-serve SQL analytics at blazing-fast speeds. Deepnote is designed to help data teams explore, collaborate on, and share data with ease.
With Deepnote's new integration with Dremio, you can unlock the power of both — all from the comfort of your data notebook.
Let's look at the benefits of Deepnote's Dremio integration, how it works, and what it means for your SQL analytics workflows.

Combine sub-second performance with collaborative analysis
As an open data lakehouse, Dremio helps data engineers and analysts run lightning-fast SQL queries at a tenth of the cost of traditional cloud data warehouses. That's why half of the Fortune Top 10 rely on Dremio for self-service SQL analytics.
Now those same organizations can put Dremio to work directly from Deepnote — a modern, cloud-based data notebook designed to make exploratory data analysis faster, easier, and more collaborative.
With Deepnote, you can explore data with SQL and Python, create presentation-ready data visualizations with zero code, and provide key context with rich text formatting, all in one place. Teammates can code in the same environment simultaneously to collaborate in real time, leave comments for each other to work together asynchronously, and share notebooks by sending a link.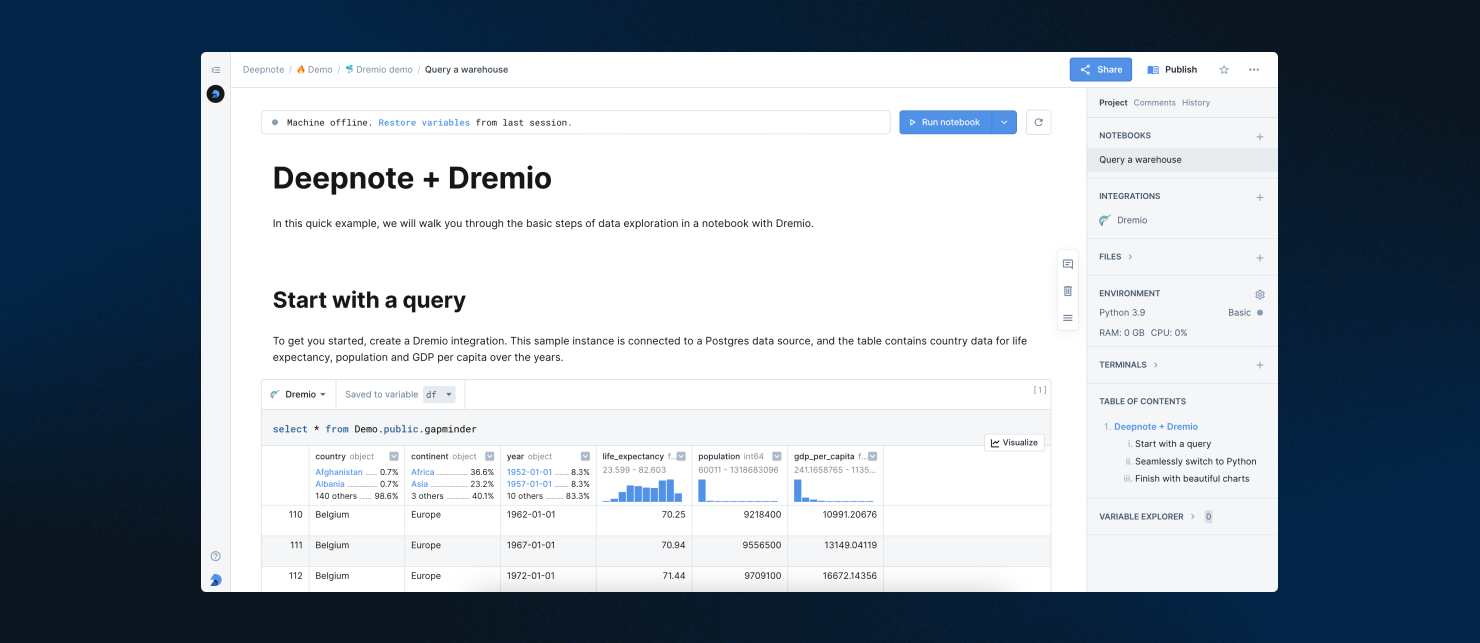 Simply query your Dremio instance using Deepnote's SQL blocks, extract relevant data, and start analyzing and modeling it in Deepnote. Your version-controlled notebook can then be published as an article, dashboard, or interactive application. From there, you can organize it into a searchable workspace that's protected by role-based access controls.
This makes it much easier to quickly query your data and iterate on it with technical and non-technical teams alike.
Plus, Deepnote features a blazing-fast schema browser you can use to explore the structure of your Dremio data. With a single click, you can quickly navigate your entire Dremio instance and receive results almost instantly. Not only do you get full visibility into every table and column, but you can also speed up your SQL workflows with intelligent autocomplete — all without ever leaving your notebook.
Bring Deepnote & Dremio together
You can unlock the power of Dremio and Deepnote together in three simple steps (learn more in our docs):
Step 1: Create an integration to Dremio Cloud
Click Create new from the Integrations tab in the right-hand panel of your Deepnote notebook, select Dremio, and add your credentials.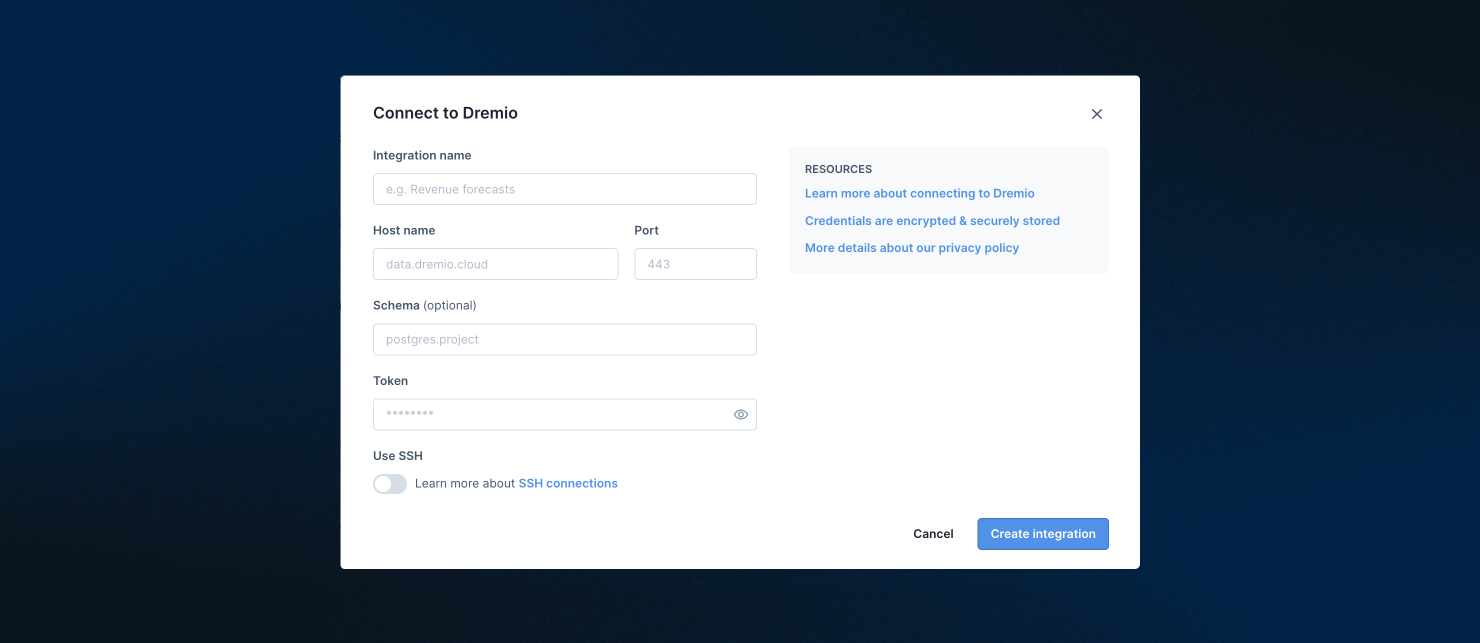 Step 2: Connect Dremio to a project
Connect your Dremio integration to any project within your workspace using the right-hand sidebar. Just click the plus sign (+) and choose Dremio.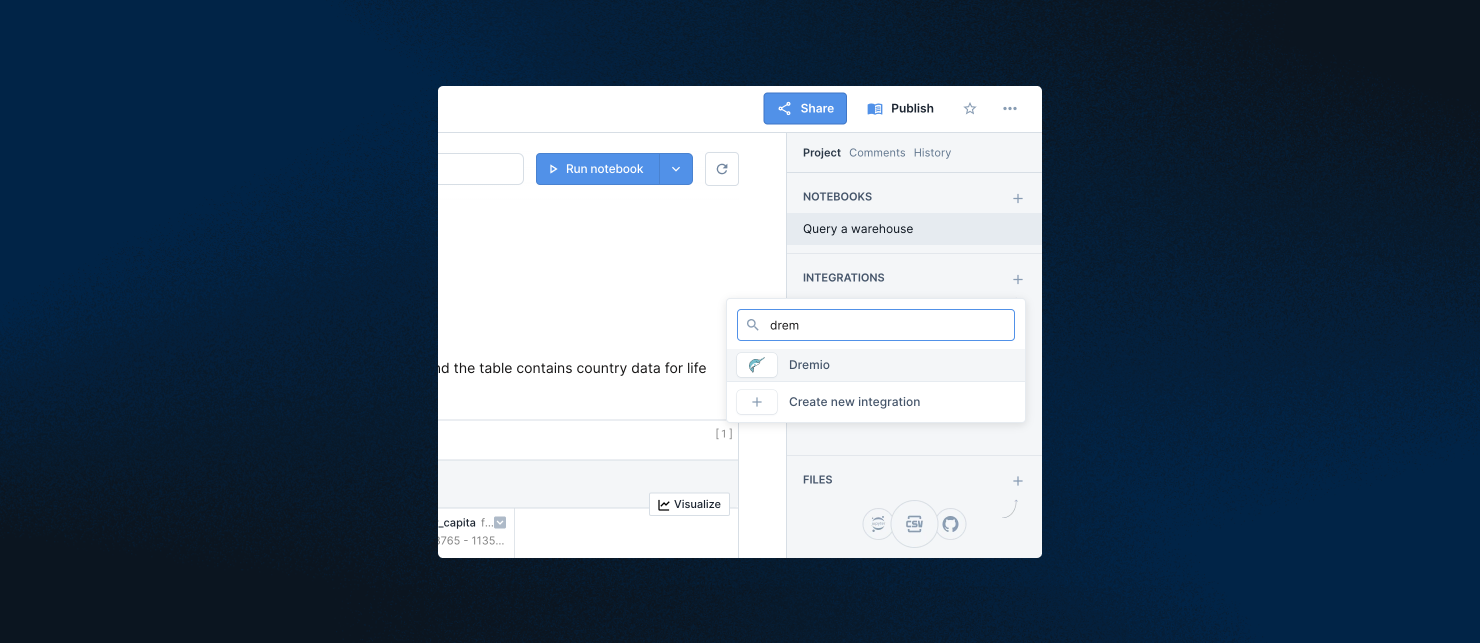 Step 3: Run an SQL query
Create an SQL block in your notebook and run an SQL query against your Dremio instance. The results will be saved as a pandas DataFrame and stored in the variable specified in the SQL block.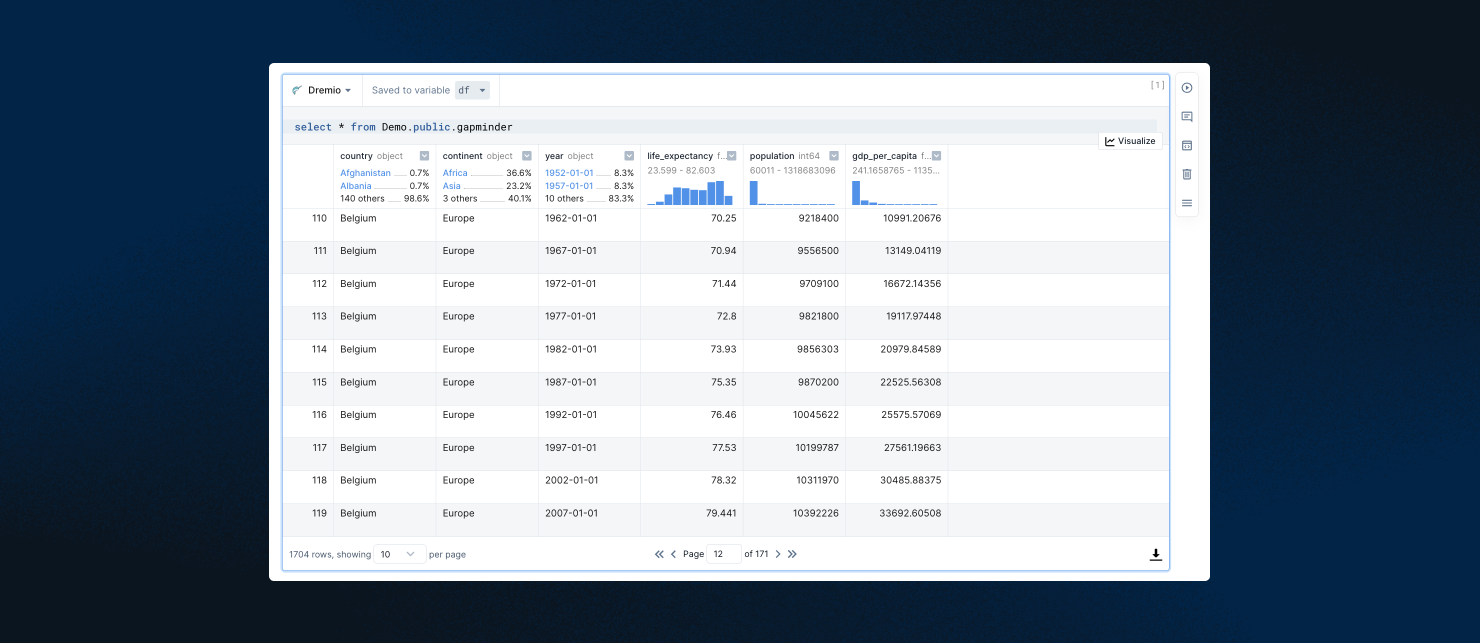 See Deepnote & Dremio in action
Dremio enables users to store data in an open lakehouse architecture and supplement it by joining tables from different data connections. No data movement or data copies are required. Deepnote users can then run SQL queries against these datasets directly from their notebooks and use the results to build interactive, presentation-ready charts with zero code. Query, visualize, iterate, and share, all in one location and with just a few clicks.
We're thrilled to partner with Dremio to bring its blazing-fast speed and unique flexibility to Deepnote's secure, scalable, and collaborative data notebook. We hope this integration helps all our customers work better together to find and share the insights that lead to action.
Try Deepnote with Dremio today
Get started for free to unlock your SQL superpowers with Deepnote and Dremio. You can try Dremio Cloud for free today.
Try Deepnote today
Start on a Team plan trial to see what Deepnote can do. On a big team? Book a call with us!